Edularp Conference
8th of March
Arabia campus of Aalto University
Edularp Conference Helsinki 2016 is the 3rd annual edularp conference. All the previous conferences have been part of the Nordic Larp conference Solmukohta and brought edularp professionals, larpers, teachers and other people interested in the form all over the world together.
The program consists of edularps, panels, lightning talks and workshops. If you are interested in edularps and applications of larps in education, welcome!
Location
The Edularp Conference Helsinki 2016 will be held at the Arabia campus of Aalto University on the 8th of March 2016. The details will be published when the rooms are confirmed.
Fee
The event is free, but requires a sign up.
Sign-up
The sign up for the conference is closed.
Schedule
8:30 am - doors open
9:00 am - conference starts
4:00 pm - the conference is over
Program
The conference has program for both newcomers to edularp, teachers, academics and seasoned edularp practitioners. The program consists of edularps, a panel, workshops and lightning talks. The participants will be able to choose which edularps and workshops they want to attend.
Program map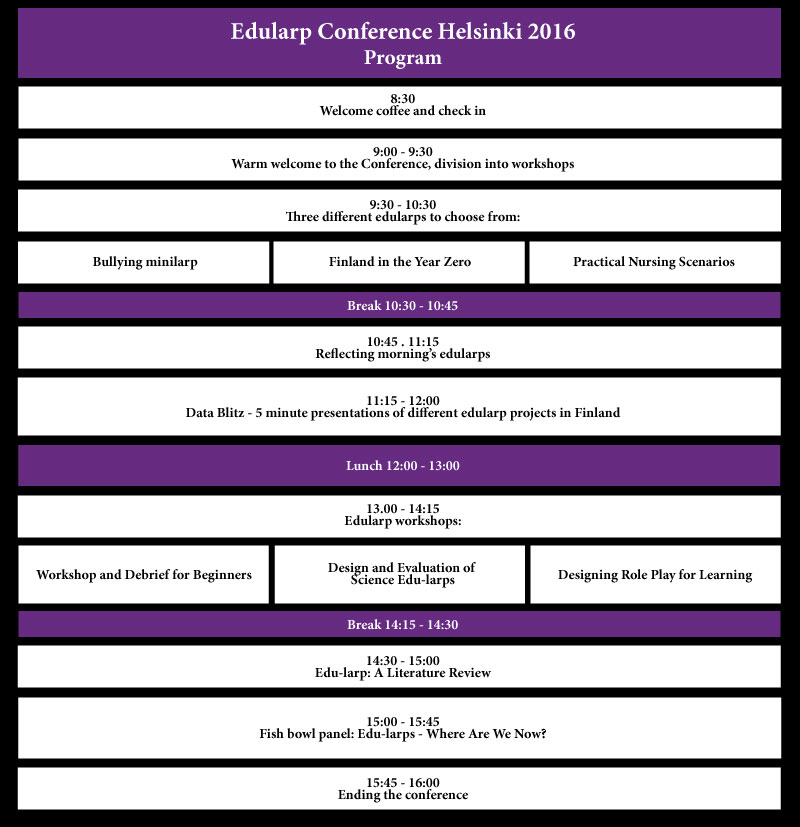 PROGRAM DETAILS
Sign up to the edu-larps and workshops happens on site in the morning.
Three edu-larps to choose from
Time: 9.30-10.30
Bullying Minilarp
Jori Pitkänen
Amount of participants: 10-25
A simulation of schoolyard bullying, based on roles found in research about school bullying. Preparation, the whole larp and debriefing all fit in 60 minutes. The edu-larp is especially designed to research the phenomenon of bullying and preventing it. It is suited for students from 9 years onwards.
Finland in the year zero
Heikki Koponen, Vesa Partanen, Antti Leppä
Amount of participants: As many as needed
As we know, Finland became independent only recently. Welcome to Finland's nr 1 TV studio! Take part in the chat show 'Finland in the year zero'. Today's main topic is education. What kind of school system do we need in this new situation? Please join us as a panelist or be part of the show in the audience.
This larp has been used in trainings for curriculum creation.
Edu-larping practical nursing scenarios
Venla Leimu
Amount of participants: 10-25
This edu-larping session has been originally prepared for teenage practical nursing students studying at Hyria vocational school in Riihimäki and Hyvinkää. The simulation integrates studying English with the students' professional studies such as Caregiving or Working with the Elderly. During the edu-larping session, participants communicate with each other in roles. While practicing both English and various customer service scenarios, the participant also gets a fresh perspective on their future job.
Data Blitz - Short presentations of edu-larp projects in Finland
Time: 11.15-12.00
Jupe Rantalainen: X-Men - Hacking Group Dynamics with Mutant Powers
Some experiences with seven boys from the fifth grade, their problematic group dynamics and X-men training.
Ritva Savonsaari and J. Tuomas Harviainen: Edu-gaming in upper secondary school language learning
Tanja Lehto: Edu-larp in early childhood education
Otavan opisto (Heikki Koponen, Antti Leppä): Pentagon 1 & 2: take four upper secondary school courses and make a hybrid game - Nukes included!
Venla Leimu: Professional English with a creative twist: Edu-larping in vocational school language learning
Kaisa Kangas: Edu-larp for Adults - designing educational games for art students
Taru Kumara-Moisio: Aqua - an educational live action role-playing game about running out of fresh water
Edu-larp workshops
Time: 13.00-14.15
Workshop and Debrief for beginners
Siri Sandqvist and Qla Zetterberg
Amount of participants: max. 40
During an intense workshop the participants will try some of the most successful and common workshops and debrief methods used by the swedish larp company LajvVerkstaden for school classes with no earlier larp experience. We will explain how we present and run the workshops and why this has proven to be the best way of doing it.
Design and Evaluation of Science Edu-larps
Josef Kundrát and Jakub Doleček
Amount of participants: 6-25
This workshop will be divided into two parts. In the first part we will examine the possibilities of designing edu-larps about natural sciences (mathematics, physics, chemistry) for elementary schools. We will discuss some recent games from Czech Republic and try to resolve some challenging design issues.
The second part will be about feedback and evaluation of edu-larp games in general. We are going to share some interesting techniques for collecting feedback and reflection from our players, teachers and actors. We are trying to develop a new evaluation method based on construal level theory of psychological distance. Some implications and research challenges will be discussed.
Designing Role Play for Learning
David Simkins
Amount of participants: 10-25
In this workshop we will be working through some of the exciting possibilities of using role play for learning. Looking at a few different ways of implementing role play. We will look at a bit of design and learning theory, and put that theory into practice. Starting with learning goals, we will begin to define design constraints, scope, and structure, and move to defining content for a larp for learning.
Lecture: Edu-larp - A Literature Review
Time: 14.30-15.00
Sarah Lynne Bowman
Summarizing the results of an article from the Wyrd Con Companion Book 2014, this literature review streamlines the various benefits afforded by experiential learning along cognitive, affective, and behavioral dimensions. Larp, simulation, games, and drama are considered alongside one another as cousin forms of experiential pedagogy. Synthesizing both anecdotal and empirical research, this presentation provides an extensive list of some of the potential uses and functions of edu-larp, from classroom activities to professional training to leisure larps with a pedagogical purpose. More quantitative and qualitative research is needed to establish the generalizability of these benefits.
Fish bowl panel: Edularps - Where Are We Now?
Time: 15.00-15.45
Panelists: J. Tuomas Harviainen (panel host), Qla Zetterberg, Heikki Koponen, Sarah Lynne Bowman, Martin Nielsen and possibly you!
Dr J. Tuomas Harviainen hosts the panel, which addresses the current state of edu-larp: Where are we now? What is done around the world? How is edu-larp seen by official instances? Where is edu-larp's potential in the future? The discussion begins with a short video clip and some questions from Esben Wilstrup from EPOS Efterskole, a new role playing school in Denmark.
The panel discussion is in the fish bowl form: One chair is always kept empty for audience members who want to join in. When someone from the audience joins the panel, they get the next commenting turn and become a member of the panel. One of the original panelists needs to leave, but they can of course come back whenever they want to comment on something.
---
Program hosts
Jakub Doleček
Program: Edu-larp workshop
Jakub Doleček has designed a dozen of edu-larps which have been played by about two thousand children. He wrote his master's thesis about "Live action role playing as tool of popularization of science and validation of knowledge".
J. Tuomas Harviainen
Program: Data Blitz, Panel host
J. Tuomas Harviainen (M.Th., Ph.D., MBA) is a development manager and assistant professor who focuses on organizational learning through games, and co-edits the journal Simulation & Gaming.
Kaisa Kangas
Program: Data Blitz
Kaisa Kangas is a Finnish larp designer and the fiction lead for the Palestinian-Finnish political larp Halat hisar. She has 20 years of experience in larp-making, and has designed educational games for University of Arts Helsinki. She holds a Ph.D. in mathematics and a B.A. in Japanese Studies.
Heikki Koponen
Program: Edu-larps to choose from, Panel, Data Blitz
Heikki Koponen from Otava Folk High School is a biology teacher who has designed edu-larps for several years for upper secondary school purposes.
Maija Korhonen
Program: Conference organiser
Maija Korhonen is studying to become a teacher of Finnish language and literature, ethics, and philosophy. She's also a long time larper and larp organizer, and an eager beginner in the edu-larp field.
Taru Kumara-Moisio
Program: Data Blitz
Taru Kumara-Moisio is a teacher of Finnish language and literature in the upper secondary school of Ylöjärvi and has written and organized various small edu-larp projects with students and friends over the last few years.
Josef Kundrát
Program: Edu-larp workshop
Josef Kundrát is Czech psychologist and edu-larp practitioner with several years of experience with designing and researching edu-larps focused on natural sciences.
Tanja Lehto
Program: Data Blitz
Tanja Lehto did her bachelor's thesis on edu-larp for children and has since worked to increase her skills and understanding on educational larp.
Venla Leimu
Program: Edu-larps to choose from, Data Blitz
Venla Leimu teaches English for around 20 different lines of study from Metal Workers to Media Assistants, Security Guards and Hairdressers at Hyria, a vocational school in Riihimäki. Her interest in edu-larping comes from her own background in role-playing games. She also enjoys teaching less for school and more for life, and edu-larping offers a fantastic opportunity for that.
Antti Leppä
Program: Edu-larps to choose from, Data Blitz
Antti Leppä from Otava Folk High School is a long-term roleplayer who is known from Forge & Illusion (http://www.forgeandillusion.net/) web platform and educational roleplaying games.
Sarah Lynne Bowman
Program: Lecture, Panel
Sarah Lynne Bowman is a professor and scholar who has studied the functions of role-playing in both leisure and educational contexts, emphasizing the ways in which participants create community, solve problems, and explore identity.
Martin Nielsen'''
Program: Panel
Martin is the manager of Alibier AS, an Oslo-based company making edu-larps for museums, schools, NGOs and businesses.
Vesa Partanen
Program: Edularps to choose from
Vesa Partanen from Otava Folk High School, MSc, Scientix Deputy Ambassador is a physics and mathematics teacher, enthusiastic gamer and pedagogy experimenter.
Jori Pitkänen
Program: Conference organiser, Edu-larps to choose from, Data Blitz
Jori Pitkänen is an edu-larp practitioner and researcher from Finland with more than a decade of experience with edu-larp in different settings.
Jupe Rantalainen
Program: Data Blitz
Jupe Rantalainen is an edu-larp practitioner in the fields of social and youth work since 1999.
Siri Sandqvist
Program: Edu-larp workshop
Siri Sandquist is an archaeologist who has her background working with children at museums. She has been working as a larp pedagogue at LajvVerkstaden since august 2015.
Ritva Savonsaari
Program: Data Blitz
Ritva Savonsaari teaches the Spanish and English languages at Lumo Upper Secondary School using game-based learning methods.
David Simkins
Program: Edu-larp workshop
David is an assistant professor at the School of Interactive Games and Media at the Rochester Institute of Technology at Rochester, NY, USA. He researches, plays, organizes, and designs in a wide range of role playing game environments, and has a specialization in learning games with role playing elements.
Esben Wilstrup
Program: Video before the panel
Esben Wilstrup is a Danish performance activist, psychologist and co-founder of Epos - a brand new boarding school where children learn and develop through play, performance and games.
Qla Zetterberg
Program: Edu-larp workshop, Panel
Qla Zetterberg is a LarpPedagog with experience of more than 20 years of EduLarp, both from the Church of Sweden and LajvVerkstaden (The LarpWorkshop).
Contact information

Organisers
| | |
| --- | --- |
| | |
| Maija Korhonen | Jori Pitkänen |