Press release March 2016
Scroll down for Finnish and Swedish version.
Selaa sivua alas löytääksesi suomenkielisen ja ruotsinkielisen versio.
Scrolla ner för finska and svenska versionen.
English PDF
Finnish PDF
Swedish PDF
PRESS RELEASE 4.3.2016 PUBLISHABLE IMMEDIATELY
Nordic roleplaying conference brings the best in the business to Finland
Solmukohta, the Nordic live-roleplaying conference brings 460 roleplaying professionals to Finland in March. The conference is organized yearly, rotating the Nordic countries (discounting Iceland). Finland is hosting the conference for the fifth time.
This year Solmukohta celebrates 20 years of organizing by hosting a four-day conference on the M/S Silja Symphony, embracing the true Nordic spirit by cruising between Helsinki and Stockholm. The dates of the conference are 9.-13.3.2016.
Nordic Larp, Nordic live-roleplaying, is a style of larping born here in the North, based on immersion, creating experiences and often following a strong artistic vision. The style has spread around the world like wildfire, and is catching the researchers' interest from USA to Palestine.
The pre-event "A Week in Finland" (4.-9.3.2016) gathers a hundred-strong crowd to Helsinki for six days. During the week before Solmukohta several events, such as the publishing of the English version of the roleplaying game "Myrskyn Sankarit" by Finnish Mike Pohjola, and the upcoming staging of the internationally awaited White Wolf-publishing house live-roleplaying game "End of the Line".
The pre-event also gathers domestic and foreign professionals who use roleplaying in teaching and education together: on the Tuesday 8th of March 2016, a day-long Edularp Conference Helsinki will be hosted at the Aalto University premises in Arabia.
The conference hosts a wide array of program, from lectures and presentations to larps. Claus Raasted will be talking about his sensational larp "College of Wizardry" which garnered a lot of fans online, where the players get to immerse themselves in a Harry Potter-esque wizarding school in a real castle. Raasted will also be appearing as a guest of honor at the Finnish role-playing festival Ropecon, which is the largest role-playing conference in Northern Europe. Ropecon ry is also one of the co-operators in organising Solmukohta 2016.
Norwegians Magnar Grønvik Müller and Martin Nielsen will play out their popular larp "Fallen Stars – Falne stjerner" to the conference goers. In the game the players play as items forsaken at a flea market, worrying over tomorrow and yearning for the past when they still had worth and value. The game uses black box-techniques, common in stage theater, that utilizes light, sound and ordinary objects to create graspable experiences for the players, used to channel the feelings conjured by the immersion.
Niina Niskanen and Simo Järvelä, designers of popular Nordic Larps like Neonhämärä and Tonnin Stiflat, explain and open the world of city larps, very popular and trendy in Finland, where larpers bring the game world to life on the streets, bars and cafes of cities, amidst people unaware of the larp at all. People living their lives normally acting as the backdrop to a live-roleplaying game creates its' own challenges to game design.
Link to a publishable picture
Picture credit: Tuomas Puikkonen, Neonhämärä larp designed by Nina Niskanen and Simo Järvelä, alternative world took over a tram in Helsinki
Link to a publishable picture
Picture credit: Christina Molbech, College of Wizardry
Solmukohta webpages: http://solmukohta.org/
A Week in Finland: http://solmukohta.org/index.php/AWiF/
Edularp Conference Helsinki: http://solmukohta.org/index.php/Edularp/
J. Koljonen, Introduction to Nordic Larp: http://nordiclarptalks.org/introduction-to-nordic-larp/
More information:
Maija Hannula Thorhauge
Artistic Director - Solmukohta 2016
info@solmukohta.org +358401577165
---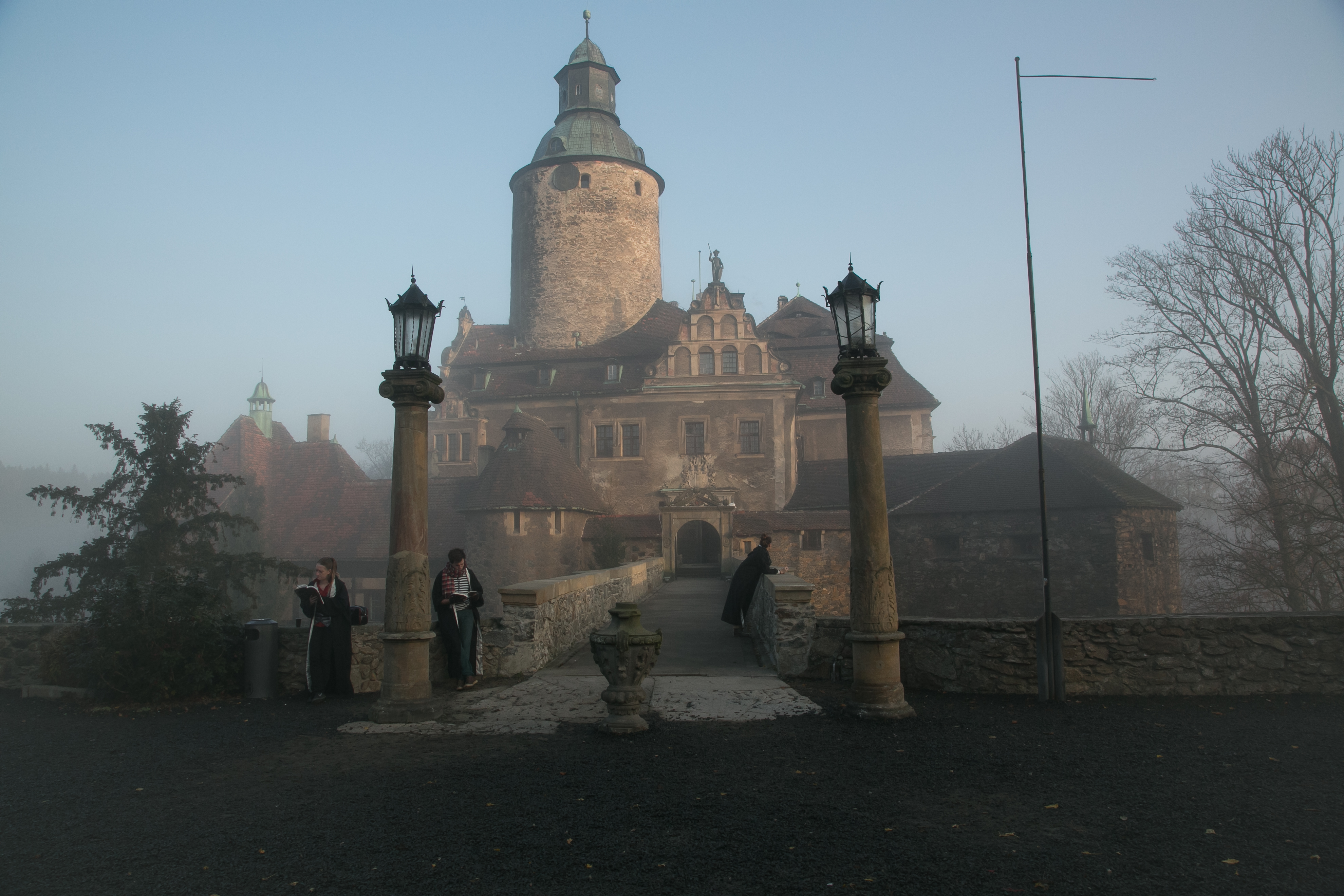 LEHDISTÖTIEDOTE 4.3.2016 JULKAISUVAPAA HETI
Pohjoismaisen liveroolipelaamisen konferenssi tuo alansa huiput Suomeen
Solmukohta, yhteispohjoismainen liveroolipelikonferenssi tuo 460 liveroolipelaamisen ammattilaista Suomeen maaliskuussa. Konferenssi järjestetään vuosittain kiertävällä vuorolla Pohjoismaissa (Islantia lukuun ottamatta). Suomi toimii isäntämaana viidettä kertaa. Tänä vuonna Solmukohta juhlistaa 20. kertaansa järjestämällä nelipäiväisen konferenssin M/S Silja Symphonyllä, pohjoismaiseen henkeen risteilemällä Helsingin ja Tukholman väliä. Tapahtuman päivämäärät ovat 9.3.–13.3.2016.
Nordic Larp, pohjoismainen liveroolipelaaminen, on täällä pohjolassa syntynyt larppaamisen tyylisuunta, joka perustuu eläytymiseen ja kokemusten luomiseen ja seuraa usein vahvaa taiteellista visiota. Tyylisuunta on levinnyt ympäri maailmaa kulovalkean tavoin viimeisen vuosikymmenen aikana ja kiinnostaa pelisuunnittelijoita ja tutkijoita Yhdysvalloista Palestiinaan saakka.
Ennakkotapahtuma "A Week in Finland" (4.3.–9.3.2016) kerää satapäisen yleisön Helsinkiin kuudeksi päiväksi. Viikolla ennen Solmukohtaa julkaistaan mm. suomalaisen Mike Pohjolan Myrskyn sankarit -roolipeli englanniksi, sekä nähdään kansainvälisesti odotetun White Wolf -kustantamon vampyyriaiheinen liveroolipeli End of the Line. Ennakkotapahtuma kokoaa kotimaiset ja kansainväliset roolipelejä opetuksessa hyväkseen käyttävät osaajat yhteen: tiistaina 8.3.2016 Aalto-yliopiston tiloissa Arabiassa järjestetään päivän mittainen Edularp Conference Helsinki. Edularp-tapahtuman jälkeen yleisölle tarjotaan Ted Talks -tyyliset esitelmät, jotka juontaa Ruotsinkin mediasta tuttu Johanna Koljonen.
Konferenssissa on ohjelmaa laidasta laitaan, larpeista esitelmiin. Claus Raasted puhuu konferenssissa nettihitiksikin muodostuneesta College of Wizardry -larpista, jossa pelaajat pääsevät eläytymään Harry Potter -tyyliseen velhojen kouluun oikeassa linnassa. Raasted saapuu kesällä kunniavieraaksi suomalaiseen Ropeconiin, joka on Pohjois-Euroopan suurin roolipelitapahtuma. Solmukohta 2016 -konferenssi järjestetään yhteistyössä Ropecon ry:n kanssa. Norjalaiset Magnar Grønvik Müller ja Martin Nielsen pelauttavat konferenssikävijöille suositun larppinsa Fallen Stars - Falne stjerner. Pelissä eläydytään kirpputorille hylättyihin esineisiin, jotka huolehtivat huomisesta ja kaihoavat menneeseen, jolloin niillä oli käyttöarvoa. Peli käyttää hyväkseen teatteritaiteestakin tuttua black box -tekniikkaa, valoja ja ääniä sekä arkipäivän esineitä tuottamaan pelaajille konkreettisia kosketuksellisia kokemuksia, joilla kanavoida eläytymisen tuomia tunteita.
Niina Niskanen ja Simo Järvelä, pelisuunnittelijat suosittujen Nordic Larp -pelien kuten Neonhämärä ja Tonnin stiflat takana, esittelevät konferenssiyleisölle Suomessa muodikasta kaupunkipelaamista, jossa larppaajat herättävät eloon pelimaailman kaupungin kaduilla ja kuppiloissa, larpista tietämättömien ihmisten keskuudessa. Kun arkielämänsä askareita suorittava väkijoukko toimii yleisönä ja lavasteena liveroolipelille, se tuo pelisuunnitteluun omat haasteensa.
Linkki julkaisuvapaasen kuvaan 1
Kuvan oikeudet: Tuomas Puikkonen, Niina Niskasen ja Simo Järvelän Neonhämärä -liveroolipeli, vaihtoehtoinen todellisuus näyttäytyi helsinkiläisessä raitiovaunussa.
Linkki julkaisuvapaasen kuvaan 2
Kuvan oikeudet: Christina Molbech, College of Wizardry
Solmukohdan kotisivut: http://solmukohta.org/
A Week in Finland: http://solmukohta.org/index.php/AWiF/
Edularp Conference Helsinki: http://solmukohta.org/index.php/Edularp/
J. Koljonen, Introduction to Nordic Larp: http://nordiclarptalks.org/introduction-to-nordic-larp/
Lisää tietoa:
Maija Hannula Thorhauge
Artistic Director - Solmukohta 2016
info@solmukohta.org +358401577165
---
PRESSMEDDELANDE 4.3.2016 FÄRDIGT FÖR PUBLICERING
En nordisk konferens för levande rollspel för samman branschens bästa i Finland
Solmukohta, den gemensamma nordiska konferensen för levande rollspel för samman 460 professionella levande rollspelare i Finland i mars. Konferensen arrangeras årligen i tur och ordning mellan de nordiska länderna (förutom Island). Finland fungerar som värdnation för femte gången. I år firar Solmukohta sitt 20:e år genom att arrangera en fyra dagars konferens på M/S Silja Symphony, med en kryssning i nordisk anda mellan Helsingfors och Stockholm. Datumen för evenemanget är 9.3. - 13.3.2016.
Nordic Larp, nordiskt levande rollspel, är en stil av levande rollspel som har fötts i norden som betonar inlevelse, skapandet av upplevelser och ofta följer en stark konstnärlig vision. Stilen har spridits världen runt likt en löpeld och fångar forskarnas intresse ända från USA till Palestina.
Evenemanget "A week in Finland" (4.-9.3.2016) som sker före konferensen samlar ett hundratal personer i Helsingfors under sex dagar. Under veckan före Solmukohta sker en rad händelser, såsom publicerandet av den engelska versionen av rollspelet "Myrskyn Sankarit" av finska Mike Pohjola, samt utspelandet av det internationellt efterlängtade levande rollspelet "End of the Line" av White Wolf Publishing.
Förhandsevenemanget samlar även inhemska och utländska yrkesmänniskor som använder rollspel inom pedagogik och utbildning: på torsdagen 8.3. arrangeras heldagskonferensen Edularp Conference Helsinki i Aalto universitetets utrymmen i Arabia.
Under huvudkonferensen hålls ett brett utbud av program, från föreläsningar och presentationer till levande rollspel. Claus Raasted kommer att föreläsa om sitt sensationella evenemang "College of Wizardry" vilket har fått många fans online. I spelet fick spelare leva sig in i en Harry Potter-liknande skola för magiker som utspelade sig i ett äkta slott. Raasted kommer även att delta som hedersgäst i det finska rollspelskonventet Ropecon, vilket är det största rollspelskonventet i norra Europa. Ropecon ry är även en av samarbetsparterna som arrangerar Solmukohta 2016.
Norrmännen Magnar Grønvik Müller och Martin Nielsen kommer att arrangera upp deras populära levande rollspel "Fallen Stars – Falne stjerner" för konferensdeltagarna. I spelet gestaltar deltagarna övergivna föremål i en loppmarknad, där de oroar sig över morgondagen och längtar tillbaka till en tid då de ännu hade ett värde. Spelet använder black box-tekniker som är vanliga inom scenkonsten, där ljus, ljud och vanliga föremål används för att skapa en påtaglig upplevelse för spelare.
Niina Niskanen och Simo Järvelä som har designat populära nordiska levande rollspel som Neonhämärä och Tonnin Stiflat förklarar och öppnar upp världen av stadsrollspel, som är populära och trendiga i Finland. I stadsrollspelen för spelarna ut spelvärlden på gator, barer och cafén runt om i staden, utan att människorna runtomkring är medveta om att ett rollspel äger rum överhuvudtaget. Folk som lever sina vanliga liv och samtidigt agerar som en bakgrund till ett levande rollspel innebär unika utmaningar för speldesignen.
Länk till publicerbar bild 1
Bildens upphovsperson: Tuomas Puikkonen, Neonhämärä levande rollspel fra Niina Niskanen och Simä Järvelä, stadsrollspelets alternativ värld visar sig i spårvagn i Helsingfors
Länk till publicerbar bild 2
Bildens upphovsperson: Christina Molbech, College of Wizardry
Solmukohta: http://solmukohta.org A Week in Finland: http://solmukohta.org/index.php/AWiF/
Edularp Conference Helsinki: http://solmukohta.org/index.php/Edularp/
J. Koljonen, Introduction to Nordic Larp: http://nordiclarptalks.org/introduction-to-nordic-larp/
Mer information:
Maija Hannula Thorhauge
Artistic Director - Solmukohta 2016
info@solmukohta.org +358401577165